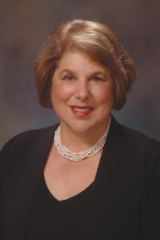 Roberta Gross-Torres
Referral Associate Brookline/Newton Office
617-566-8379

About Roberta
Roberta Gross-Torres, a Hammond Charter Associate, has been selling residential real estate in the Brookline/Newton area since 1986. She believes that the key to successful real estate transactions is focused, active listening to the buyer and seller. Real estate, she knows, is not a "one size fits all" product or process. Each property, seller and buyer needs a program customized to the specific situation.
Selling, Roberta says, is a function of exposing the subject property to the potential buyers regardless of their search methods: direct mail, internet, working with other agents, wandering around going to open houses, etc. Interaction with cooperating agents results in most sales in the Brookline/Newton market and Roberta knows the best way to get to "yes" in the shortest possible time, at the highest possible price and with the least inconvenience to the seller is through cooperation with these agents.
Buyers, Roberta knows, have a wide variety of needs and decision-making styles. Roberta recognizes that all buyers need to move along "the learning curve" and knows how to help them evaluate value and the trade-offs inherent in all properties.
A graduate of Boston University with an M.B.A. from Babson College, Roberta's experience prior to real estate includes marketing and new product development work at The Gillette Company and Morse Shoe Company, and teaching Marketing and Sales Management at Boston University.